Vinyl

Abruptum Maledictum 10" €14
Abruptum Potestates apocalypsis LP €15
Abruptum De profundis mors vas cousumet LP €15
Absurd Pure darkness 7" €8 The brand new EP with two brand new tracks that everyone is talking about - absolutely great. Already a collectors item! 100% hendrik Möbus free and highly recommended!
Absurd Raubritter MLP €20 One-sided 12" with etching on the B side. This is a the misprint where the etching is missing a part.
Absurd Totenlieder LP €22 The "come back" album. Amazing epic and aggressive songs, highly recommended. No hendrik Möbus on this!
Absurd Werwolfthron LP €22
Acheron Lex talionis LP €13 Vinyl edition of this cult classic.
Acheron The final conflict - Last days of god LP €13
Acherontas Black blood ceremony LP €15 Blood-chilling and top-quality live recording of the band's 2014 concert in Arnhem, The Netherlands. Greatly capturing the atmosphere of Acherontas' live occult meditative spiritual art performance, this record is unleashed in a one-edition only print. In stock on CD and LP.
Ad Hominem Antitheist LP €14 Aggressive black metal with some violent thrash riffs here and there. Topped with the hateful vocals as you know from them.
Aeternus Beyond the wandering moon 2LP €22 Underrated classics getting a great release from a great label.
Aeternus And so the night became 2LP €22 Idem.
Akitsa / Armatus split 7" €6
Alkonost Stone heart blood LP €15 Baltic premier folk metal.
Alkonost Tales of wandering pic LP €15
Amalek Die Rückkehr Wotans LP €15 Primitive glorious German black metal.
Amofas Blood like fire 7" €6 Bone Awl side-project.
Amon Liar in wait gatefold LP €15 The original Deicide brothers re-formed Amon. You know what to expect, and it's good. Original first edition, get it before the band signs to a big label.
Ancestors Blood / Profezia split 7" €6 A split release in the spirit of the early nineties. Epic and atmospheric Black Metal from Finland meet Italian old school Black Metal elite.
Ancestors Blood Hyperborea LP €14 New album 2016. Ancestors Blood continue to surprise. Where the previous album was a step back to the primitive sound of their demos and recorded in the bands rehearsal room, this brand new album "Hyperborea" returns to and even tops the epic and bombastic sound of the debut and "When the forest calls". And with this, Ancestors Blood has never sounded so bombastic and heavy. A mighty masterpiece of atmosphere and strength!
Animus Mortis Mysteriis vox divina 7" €6 Heidens Hart took over distribution for the remaining stock of None Shall Defy Records. Two tracks of dissonant black metal, reminding me of Svartidaudi and later Deathspell Omega.
Arckanum Första trulen LP €16 White vinyl edition, gatefold sleeve! "Första Trulen" is the very first version/recording of the "Trulen" demo tape released by Arckanum in 1994. Shamaatae recorded this demo by himself on a Fostex 4-track portastudio cassette tape recorder in 1994, but he didn't like how it turned out, so he recorded it all over again and this recording was left unreleased until now. The songs were newly mixed and mastered for this release. You heard these songs before in other versions, great to hear these. As all Arckanum - highly recommended, especially if you like the old stuff!
Arckanum Den förstfödde LP €15 Probably the final album from Sweden most famous forest-troll. This album is actually quite slow with lengthy ritualistic parts. The faster parts are Arckanum as you know them! Features guest solos by Set Teitan.
Arckanum Antikosmos pic LP €15 The 2008 album now released on a killer picture LP. First new full length album in 10 years. One decade after the legendary "Kampen" album. Bit more modern production but typical Arckanum atmosphere and riffs are here.
Arckanum ÞÞÞÞÞÞÞÞÞÞÞ pic LP €15
Arckanum Kaos svarta mar MLP €14 Originally a MLP released on CD as split with Svartsyn.
Arghoslent Arsenal of glory LP €16 Splatter
Arghoslent Galloping through the battleruins DLP €22 Gold vinyl.
Asgrauw / Meslamtaea Utopia split 7" €6 One brand new track from each - for Meslamtaea finally after 10 years of silence! Asgrauw one of their best tracks ever with a total 90s Scandinavian atmosphere. Very good sound, inlay and sick artwork. Grab this one!
Asgrauw Gronspech LP €14 Hailing from the mythological border regions of Gelderland, The Netherlands, Asgrauw delves deeper into their local myths and sagas on this third black metal monument. Asgrauw pays hommage to the classic sound of the 90s, combining fierce aggression by the two vocalists, with transcendental atmosphere through a subtle layer of synths. But by no means a simple copy, the experienced masters behind Asgrauw skillfully invoke spirits of the past with a focus on guitar riffs, well-written hymns and precise execution. The result is a traditional and sinister chapter, all produced and recorded by the band themselves, topped with a cover which an original commissioned oil painting by J. Putnam (Irrwisch). Indeed, Asgrauw hails "Gronspech"!
Axis Of Advance Landline MLP €14 Clear vinyl. Devastating black/doom/war metal with J. Read on drums. Sounds like Revenge with more diverse songwriting and clearer sound. Highly underrated band, get this.
Azaxul The fleshy tomb LP €17 As if time stood still, a new Azaxul album 2016. Needless to say it is amazing and sounds like the best material Moonblood ever brought forth.

Bagatur Skazanye za drewnoblgarckoto welichie MLP €13 Nordic art!
Balmog Pillars of salt MLP €14 Black vinyl includes A2 size poster and folded insert. One lengthy track of introspective and intense black metal for fanatics of Svartidaudi, Ascension. Really good!
Barathrum Hailstorm DLP €25 After a quarter of a century dwelling in the shadows after being initially presented on CD only by Nazgul's Eyrie, "Hailstorm" is vomited from Hell on vinyl for the very first time. Obscure, minimal, pulsating, bass-heavy black metal spawned from the early days of the Finnish extreme metal underground. Possessed by the same evil as "Drawing down the moon", this album is guaranteed to please the ears of anyone into early Necromantia or Beherit.
Barathrum Legions of Perkele LP €16 Vinyl edition by Hammerheart, this one is on clear vinyl.
Barathrum Saatana LP €16 All the others on black vinyl.
Barathrum Okkult LP €16 I am very possessed!
Barathrum Venomous LP €16
Barathrum Anno aspera LP €16
Bestial Summoning The dark war has begun LP €15 Third pressing of this Satanic black metal masterpiece. Recorded in 1992, fully improvised in a state of Satanic possession. This is the real deal that kicks all posers in the teeth.
Blackdeath Phantasmhassgorie LP €14 Always improving, original and legendary black metal from Russia. 21 years after the debut comes "Phantasmhassgorie", the unusual name for the ninth album of unusual band. A conceptual album around hate. Nauseating and possessed riffs, hateful vocals in German as always, great compositions and performed with military precision. Throughout the years, the band has toured Europa on regular basis with bands like Inquisition, Barathrum, Archgoat, Countess, etc, and as such always managed to escape the trendy subcategories of the genre and create true black metal for devotees only. Album mixed and mastered by TT / Abigor at Hell-Lab Studio, recorded by Konstantin Dolganov at Hiboll Studio. 8 tracks, 45 minutes playing time.
Blackdeath Phobos LP €15 Heidens Hart and Northern Heritage presents great quality vinyl LP of this exceptional album. Despite of clear production in matters of recording, it is not safe or calculated. Band uses vocals, rhythms and riffing unlike any major bands on genre and writes lyrics quite unlike majority.
Blackdeath Satanas .: Retro :. Vade 7" €6 Die Sonne geht im Norden unter / In Erwartung des Blutes / Aufgang des kalten Mörders / Preludium - Ende: Three re-recorded tracks from the old days and a Laibach cover.
Blackdeath Gift LP €15 Blackdeath is the most wellknown band from Russia. "Gift" is their eighth album, the band continues in their own style of disturbed and intense apocalyptic black metal, yet it's their fastest album so far. If you are not familiar with the previous albums like "Phobos" or "Katharsis", expect a very harsh and extreme sound, yet with avantgarde riffs, strange tempos and almost progressive song structures; all performed with razor sharp and militant precision. Blackdeath follows its own path and are among the most dedicated individuals I have ever met. First 100 copies come with free poster.

BLACKDEATH bundled vinyl package €25
Three vinyl records in a package deal: Gift LP + Phobos LP + Satanas-Retro-Vade EP.

Blacklodge Machination DLP €20 Alchemistic industrial black metal madness!
Blood Tyrant / Departure Chandelier split 7" €7
Bloodline Werewolf training LP €13 Swedish Mysticum worship! Though more diverse and not so much blasting. Last copy in stock.

Caedes Cruenta / Cult Of Eibon split 7 €8
Celestia Apparitia sumptuous spectre LP €15 Splatter
Celestia Retrospectra DLP €19
Celestia Aetherra LP €15 Fantastic new (and final) album for the band. Melancholic but still aggressive, in the style only Celestia can do. Comes on gold-coloured vinyl and with a poster.
Centurian Choronzonic chaos gods LP €15
Cirith Gorgor / Kjeld Unified in ceremonial worship split 7" €6 Both hordes attack with one brand new track: Cirith Gorgor with "Rite of purification" from the upcoming album "Visions of exalted Lucifer", to be released later this year. Kjeld contributes "Bern fan Freya" from the album "Skym" that was just released this March. Both tracks were recorded live in June 2014, carefully mixed and mastered for the best sound. A classic split 7", comes in a limited edition of only 300 copies, each one handnumbered in gold. This is a vinyl-only release!
Cirith Gorgor / Yaotzin / Fenris / Weltschmerz The nefarious order split LP €12
Corpus Christii Pale moon LP €15 Latest CC albums have a more traditional Scandinavian sound. Good melodic riffs but still aggressive performance and vocals.
Corpus Christii / Darkmoon Warrior Through centuries of black blood split 7" €6 A long overdue collaboration between two established purveyors of the black arts; they are joining forces here on a classic split 7" EP.
Countess The gospel of the horned one LP €14 Last copies! Official re-release of this true classic. Exactly the same layout as the original CD, no remastering, no bonus tracks, no glossy shiny modern production. Handnumbered LP, comes with two inserts.
Countess Ad maiorem Sathanae gloriam LP €14 The third album of Dutch Orthodox black metal cult entity COUNTESS. Originally released in 1995 on CD and now finally available on vinyl. Limited to 500 handnumbered copies on traditional black vinyl. Comes with heavy inlay.
Countess The book of the heretic DLP €25 Classic Countess album from 1996. Now, 24 years and many many requests after its original release we finally present the vinyl edition. One of Countess' most sought after albums despite its unusual mix contains famous tracks like "On the wings of Azazel", "Chapel of doom" and "In hate of Christ". Double LP with gatefold sleeve with pms gold print, all lyrics plus an extra inlay sheet with the original story of the heretic, as well as liner notes by Orlok. All true to the original layout and sound. Limited to 300 hand numbered copies.

COUNTESS bundled vinyl package €35
The three first full length LPs in a package deal: The gospel of the horned + The return of the horned one + Ad maiorem Sathanae gloriam.

Corpus Christii The torment continues LP €15
Cruciamentum Luctus infinite LP €14 Official reissue of this demo from the 90s on vinyl. Three tracks of obscure black metal with buzzing riffs, tied together by harsh ambient interludes. This is a reminder of times past when black metal was still cruel, uncompromising and unapologetic.
Cultes Des Ghoules Henbane 2LP €23 Black vinyl.
Cultus Gezeteld in zegeruïnen LP €14 Cultus return with black hateful metal. A victorious manifestation of shining, eternal, death within. LP released in alliance with New Era Productions, comes with heavy cardboard art-print inlay.
Cultus / Meslamtaea Split LP + CD €14 Repress from 2018 with the original 2008 sleeves and inlays. Same audio, no remaster, no bonus tracks. Comes with extra CD. Limited to 111 copies.

CULTUS bundled vinyl package €20
Two vinyl records in a package deal: Gezeteld in zegeruïnen LP + split LP with Meslamtaea


Dark Fortress Profane genocidal creations DLP €23 Influenced by old wave of melodic Norwegian black metal. Some similarities with old Ancient and especially Enthral. Members from Secrets Of The Moon. Vinyl re-release with remastered sound. 10 tracks, almost 70 minutes playing time.
Dark Fury Saligia gatefold LP €14
Dark Fury W.A.R. LP €14 Hateful Polish black metal. LPs have some warping but play without error.
Darkmoon Warrior Nuke 'em all LP €15 At times vile and thrashing, other times hideous and hypnotic, Nuke 'Em All is a winding journey through arcane secrets, moonlit rituals, and blasphemous hatred. None shall be standing after Darkmoon Warriors have nuked them all.
Darvulia L'alliance des venins LP €15
Dead Congregation Rehearsal June 2005 7" €6 Cult Greek death metal. Pure old school vibe and attitude, a must for fanatics of Immolation and Incantation.
Death Worship Extermination mass - demo MLP €14 Demo recording of the MLP.
Deathgate Arkanum Seelen MLP €14 For more than a decade Deathgate Arkanum has served as the medium for sole member S. to transmit and perpetuate his notion of cold introvert Black Metal through several demo tapes and split contributions as well as two full-length albums. Driven with unbound creativity and fueled by strong individualism, Deathgate Arkanum showed a perseverant evolution towards more elaborate creations of surreal negativity and baleful melancholy. Nevertheless a keen sense for the pristine dark harshness of traditional Black Metal pervades all those recordings. With "Seelen" Deathgate Arkanum delivers four new tracks which transcend the listener beyond the shallowness of present existence into an emotional void distant from common human perception. "Seelen" will drag the mind on a journey through moribund sorrow and utter darkness towards the burning aether. Released on clear vinyl in a gatefold cover with spot-lacquered layout. Issued in 500 copies through the collaboration of Amor Fati Productions and None Shall Defy Records. Listen: https://noneshalldefyrecords.bandcamp.com/album/seelen-lp
Deathkey Emanations of binaural terror LP €15 Limited to 369 hand-numbered copies. Housed in a foldout jacket with a ritual map and instructions printed on it. Includes a 12x12" cardstock insert with silver ink printing.
Deathspell Omega The synarchy of molten bones LP €15
Deathville Plague of terror 7" €6 Two tracks of pure morbid black metal. Some hints of Svartidaudi and Watain.
Demoncy Enthroned is the night LP €15 Joined in darkness, the time has come yet again for the rise of Demoncy! Stronger than ever they summon the power of darkness. Raising the banner of dark black/death metal again where so many have forgot and left behind its essence. Will those once loyal followers of the black arts again be driven into blackness where they once dwelled? In complete ecstasy we will once again cower in wait, for the night to rear us another moonlit ritual. "Enthroned Is The Night" combines the best of all previous Demoncy outputs and will bring back the essence of true evil black metal in 2013. 12" LP vinyl includes two sided insert and large 24"x24" poster.
Der Stürmer Transcendental racial idealism LP €15 Their third full-length is made available again on CD and vinyl. The audio has been remastered to give this album a lot more sharper sound that first pressing was lacking! As the audio is now given new strength, also the noble cover artwork painted by Antichrist Kramer is used in its full glory. A relentless bombardment of Hellenic NS Black Metal, glorifying the Traditions of Blood and War! Devoid of modernist manifestations, nine bloodstained cantos to the Folk-Psyche of Europa, heralding the impending downfall of the age of tolerance and liberalism! Vinyl in regular LP-sleeve with a 4-page insert.
Diaboli Anthems of sorrow LP €15 My favourite Diaboli album.
Dikasterion Stavelot 1597 / Rome 897 7" €7 Black/death metal barbarism.
Dold Vorde Ens Navn Gjengangere i hjertets moerke MLP €15 Norwegian all-star band.
Drontheim Down below LP €18 Debut album from Norwegian purveyors of experimental rock metal Drontheim, born from an idea by Norwegian guitarist -viNd- during a hiatus in his other bands (Manes and Atrox). Their music is infused with large amounts of atmospheric and cinematic passages. Sometimes distorted and strict, and other times dark and emotional. Bloodthorn and more. The album is presented on single vinyl with printed inner sleeve plus A3 size poster, limited to 200 copies on black vinyl.

Empire Of Hate Visions of a better time 7" €5
Empty Eternal cycle of decay LP €5 Re-release on vinyl, 15 years after, of this classic demo of the Spanish underground. Old black metal in the vein of bands like Ancient.
Eternity To become the great beast LP €16 Solid Norwegian black metal, on Soulseller Records.
Evil Spectrum Evocations upon ascending flames 7" €5 South American deathrash! Well written stuff here, with focus on thrash metal side. Comes in nice gatefold 7" plus lyrics sheet.
Evilfeast / Uuntar Odes to lands of past traditions split LP €16 Heidens Hart Records is proud to add another masterpiece of traditional pagan black metal to their already rich catalogue. This split album features new material from both projects, which have been highly anticipated for some while, to put it mildly. On 30 april 2020 Slavonic and Germanic forces unite in worship of ancestral blood and soil! Arguably both bands' strongest material yet.
Extinction Pyre 7" €7 Long-awaited 7" EP from this cult English band. Vicious, obscure and tormented Black Metal. Limited to 300 hand-numbered copies.

Ferndal s/t LP €15 New project with members from Eïs. Melodic black metal with hints of Windir (album even contains a Windir classical interpretation). Ferndal seemlessly blend in premonitions from ancient scandinavian folk, baroque grace or romantic melancholy in between a veil of pure black metal aggression. Wellwritten and great sound! Comes with big fold out inlay and killer graphics / layout.
Forbidden Temple / Ultima Thule split LP €16 Both hordes are a total worship of Graveland's "Carpathian Wolves" and "In the glare...", and sound fucking great.
Forefather The fighting man LP €14 Re-stocked some copies - the last ones available! Hailed by many as their best release, 'The fighting man' was a huge progression after the previous releases and set the style Forefather is known for. Their ability to create their trademark hymnic melodies took a huge step and the epic melodies that will remain stuck in your head are well represented in songs like 'For these shores'. The album pioneered with its well written compositions; alternating between fast, energetic riffs with lots of folk melodies and mid-tempo atmospheric black metal with clean vocals almost sounding chanted at times popping up frequently, to a very dynamic whole.
Front Antichrist militia MLP €14 Violent thrashing black metal from Finland. For fanatics of Deströyer 666, Bestial Warlust, and total war.
Funeral Mourning Left seething yet unspoken & veneration of broken worlds MLP €15 One lenghty track of funeral black/doom in the style of Nortt. Almost ambient; again, style of Nortt. Been a while since I heard something this good in this genre! Luxurious release, comes recommended.
Funeral Winds Sekhmet 7" €6 A classic two track 7" single release with two black metal storms.

Gates Of Ishtar The dawn of flames LP + CD €18
Gates Of Ishtar At dusk and forever LP + CD €18
Gates Of Ishtar A bloodred path LP + CD €18
G666 Satanic shariah LP €18
Glorior Belli / Creeping split MLP €14 One lengthy song of each. Rare and hard to find release.
Glorior Belli Meet us at the southern sign gatefold LP €15 The final good Glorior Belli album before their sludge/stoner crap...
Gnipahålan / Demstervold split 7" €7 Pure ancient black metal. A monument to past times.
Godless North World in flames 7" €8 Two new GN tracks in the new style.
Grand Belial's Key Mocking the philanthropist DLP €30 Finally available on vinyl again. Nothing short of a classic. Sorry for the price.
Grand Belial's Key A witness to the regicide MLP €16 This reissue includes the full EP including two tracks which would not fit on the original 7". Sorry for the price.
Graveland Sharpening the thousand swords LP €14
Graven Reborn misanthropic spirit LP €14 Their two demos from 1999 and 2000 compiled on one LP. Amazing piece of great German black metal history! Old school riffs with occasional keyboards. For fanatics of Moonblood, Katharsis and Emperor.

Hate Forest Dead but dreaming LP €14
Häxanu Snare of all salvation LP €15 This is the black vinyl, which is the most limited. USBM in the style of old Nightbringer.
Häxenzijrkell Von Glut und Wirbelrauch LP €13
Häxenzijrkell / Lvthn Split 10" €13
Heimdalls Wacht Nichtorte DLP €18 Now released on vinyl DLP for the first time. Vinyl version contains one bonus track not on the previous CD editions.
Heinous Lucifer vult 7" €7
Hell Militia Jacob's ladder LP €17 Red vinyl limited to 200 copies. Eight stunning tracks of disturbing French Black Metal that smells of urban filth and an extremely bitter after taste.
Hellehond Verslonden LP €15 Old. School. Death. Metal. New band featuring Bagchus (ex-Asphyx), Botmuyl (ex-Wederganger) and more all-stars.
Heretic Underdogs of the underworld LP €15 Latest album, comes with poster and huge booklet!
Heretic Praising Satan LP €14
Heretic / Pox Hell's messiah split 7" €6
Hertroertzen / Dodsengel Capax infiniti split LP €18
Hödur Salve Sathanas LP €16 Old demo put on vinyl LP, already hard to find.
Holocausto War metal massacre LP €15 This marks the vengeful return to form of MG deathcore commando Holocausto. Recorded with the original lineup from 1986 as featured on the "Warfare noise" sessions.
Horn Mohngang LP €15 Brand new album from the Westfalian master! Epic and heavy hymnic black metal.
Horn Die Kraft der Szenarien DLP €20 Second album from 2006, now for the first time on vinyl! Folkish black metal.
Hypothermia Självdestruktivitet född av monotona tankegångar LP €15
Hypothermia Självdestruktivitet född av monotona tankegångar II - Monoton negativitet LP €15
Hypothermia Svarta nyanser av ljus LP €15

HYPOTHERMIA bundled vinyl package €25
Three vinyl records in a package deal: Självdestruktivitet född av monotona tankegångar LP + Självdestruktivitet född av monotona tankegångar II - Monoton negativitet LP + Svarta nyanser av ljus LP

Hulder De oproeping van middeleeuwse duisternis LP €15 Primitive black metal. Riffs reminding a lot of several old Burzum albums. Comes on clear vinyl with black splatter, looks great.
Hunok Megrendíthetetlenség LP €16 Pure worship of old Graveland, "Carpathian wolves"-era! After years of struggle Hunok's long awaited debut full length debut album is unleashed at last! This raw black metal horizon will catapult you back to the glorious age of the early and mid nineties Polish black metal shrine. Mandatory for the Temple of Fullmoon devotees.

Ibex Angel Order I.Ô. creatôr / I.Ô. destrôyer 10" €14 A conceptual EP of primitive and Gnostic art by the IAO duo. Two ritualistic and hymnic black metal invocations performed with furious possession. Rreleased on cassette and 10" formats. Includes all lyrics and fantastic original artwork, made especially for this release by Cold Poison. Highly recommended for fanatics of Mare, Urfaust and Inquisition. 10" EP features three vinyl-exclusive bonus tracks not on the tape, and is distributed by Terratur / Ván / Fallen Temple.
Imago Mortis Ossa mortuorum... LP €15 Pure occult Italian black metal - some elements remind me of countrymen Mortuary Drape and have been around for a long time too. Good stuff!
Impalement The impalement LP €16 Brutal and guttural black/death in the vein of Belphegor.
Impiety The impious crusade LP €14
In Battle Welcome to the battlefield LP €5 Technical and aggressive fast death metal. So it doesn't sound like their old stuff at all, but still good. Comparable to Dawn Of Azazel.
Incursus Adaestuo LP €15 Recommended piece of USBM.
Inferno Uctívání temné zurivosti LP €15 Re-stock! Fourth album of antihuman intolerant black metal from these Czech masters on Undercover Records.
Infidel Reich Infidel reich MLP €14 Highly anticipated debut mini album, featuring ex members & members of Asphyx, Acheron and Rectal Smegma. Infidel Reich plays death metal exclusively, or in todays climate better described as "reality metal" in the vein of Celtic Frost, Carnivore, Venom, Bathory and Discharge.
Infidel Reich Reichenstein LP €15
Infinity Hybris DLP €18 'Hybris', the sixth studio album of Dutch Occult Black Metal masters Infinity: a 53 minute mystical journey through the darkest depths of the underworld: released on CD, double-LP, tape & digital. 'Hybris' is recorded, mixed and mastered at Necromorbus Studio by Tore Stjerna.
Inquisition Obscure verses for the multiverse DLP €25 First press on transparant with gold splatter vinyl.
Intolitarian Suicidal allegiance 7" €8
Irrwisch Fallwind 7" €5 "Fallwind" and "An der Nebelgrenze", two lengthy tracks of atmospheric music recorded between 2009 and 2012, now finally exhumed and available on vinyl 7". More or less the same style as the demo!


Kataxu Roots thunder LP €15 Official re-release of the predecessor of "Hunger of elements". Amazing and epic material!
Kawir Father sun - mother moon DLP €20 Carving out a decent career in one of metal's greatest scenes, Kawir has been a driving force of the Hellenic black metal movement since forming in 1993. Excellent melodic black/pagan metal, carrying the ancient spirit of Greece.
Kawir Exilasmos LP €15 2017 album from the Hellenic warriors!
Kawir Adrasteia LP €15
Keep Of Kalessin Epistemology 2LP €18
Kill Devil mass LP €16 Brand new album of Swedish filth!
Kill The death rape EP 7" €7
Kjeld De tiid hâldt gjin skoft MLP €13 Time doesn't stop. Time won't take you into consideration. Time won't take a break. So, four years after originally planned - a lot longer than we all wanted and wished, we have finally pressed this EP on vinyl record!
Kjeld / Wederganger Split LP €15 Possibly the best material delivered by both bands.
Kult Ofenzivy Symfonie oceli LP €15

Leraje Ferro ignique 7" €5 Very good.
Lord Wind Ales stenar LP €15 One hour of calm and soothing folk music, really good.
Lutomysl Firmament 7" €6 Two great new tracks, among my favourite bands from Ukraine now.
Lutomysl Ecce homo LP €15 Basically entire discography has been picked up by Drakkar. Included are LP editions from some old albums. Lutomysl is great black metal from Ukraine.
Lutomysl De profundis LP €15
Lutomysl Decadence LP €15
Lutomysl Catharsis LP €15

Malignant Eternal Taarnet LP €16 Norwegian classic.
Maniac Butcher Krvestreb LP €16 Brand new 2019 reissue, received from the band directly.
Maniac Butcher Immortal death LP €16 2018 exclusive vinyl re-release of this demo.
Maniac Butcher Live in Germany LP €15 Compilation of four different live recordings between 1997 and 2001, received from the band directly.
Maniac Butcher Lucan - antikrist LP €16 Also brand new reissue. These three are very well done, the best looking and sound Maniac Butcher existing!
Maniac Butcher Live in Open Hell LP €15 This is one of my personal all time favourite live albums, received from the band directly.
Manzanar s/t 7" €6 Fast and militant black metal from Germany. Old tracks from 1997, never released before. For fanatics of Zyklon-B, War and Mysticum. Limited to 222 copies, exclusive distribution! Review here.
Marduk Nightwing pic LP €15 Blooddawn version. One of the more underrated albums from Marduk.
Marduk Germania pic LP €15 Blooddawn version. Monumental live album, also a rare tour where Marduk had two guitarists.
Mefitic Columns of subsidence 7" €6 Guttural and pure evil black/death metal. One of not many bands in the style that are this good. For fanatics of Blasphemy and Dead Congregation. Comes with a nice big booklet with lyrics etc.
Mefitic Columns of subsidence 7" + logo patch €9
Megiddo The holocaust messiah LP €15
Merrimack Omegaphilia LP €15
Metalucifer Heavy metal chainsaw LP €15
Molten Chains In the antechamber below LP €15
Monarque Lys noir LP €16 Black metal from Canada.
Monstraat Scythe & sceptre LP €15 Swedish black metal reminding me a lot of Lugubre, with more primitive sound. Label description: "black metal sprung from the dingiest, dankest sewers and spit forth with absolute disgust and general unsafety for their very lives. Imagine Darkthrone's Panzerfaust made even uglier & creepier and you'll have some idea of the onslaught you're about to witness. MONSTRAAT offer you their Scythe & Sceptre...open up and bleed!"
Mordaehoth Limburgian pagan madness LP €13 The oldest Dutch pagan black metal show a colder and harsher return to the roots of pagan black metal. Re-recorded unreleased songs, as a tribute to the old European pagan black metal sound!
Morrigan / Blizzard split gatefold LP €15 12" Lp with "raw black`n Bathory roll" from both bands, on black vinyl limited to 400 copies in a gatefold sleeve with killer artwork. Last recordings in the original Morrigan line-up. Good raw sound from both, Blizzard also sounds like Hellhammer here.
Morte Incandescente To praise the one of the black wings LP €15 Members from Corpus Christii. Raw black metal from Portugal in the style of LLN.
Mortician Zombie massacre live LP €16
Mortifera Bleüu de morte LP €14 Their third album, perhaps their softest, but still typical Mortifera sound. Very good sounding and looking release, comes on splatter blue/black vinyl, with booklet with lyrics and photos. Dreamy and melancholic black metal, recommended for fans of old Katatonia, old Alcest.
Mortifera Sanctii tristhess LP €10 Latest album and in my opinion the best. A bit more aggressive compared with the third album. Very good sounding and looking release, comes with nice silver printing and booklet with lyrics and photos. All copies have minor damage, seam split on the top, sold for nice price.
Mortiis The song of a long forgotten ghost LP €15 Red vinyl.
Mortuary Drape Spiritual independence LP €18 Latest album, simply brilliant!
Munruthel Creedamage DLP €18 Project from ex-Nokturnal Mortum members.
Murw Kanker LP €14 Long awaited debut album of Murw out now on CD and LP. One of The Netherlands' best kept secrets returns with a truly stunning and groundbreaking album of progressive death/doom metal. Extraordinary, unconventional and creative songwriting, this album is nearly impossible to compare with any existing band or fit in any existing genre. Murw is not a newcomer one-day-fly performing a cheap, new gimmick trying to stand out. Throughout their history, dating back to the early 90s where the band already did shows supporting Emperor for example, they've shown a unique own style of music, culminating into "Kanker". "A very impressive work. Multifaceted and unconventional, yet never too twisted. Recommended to everyone who likes original music, that despite experiments or progressive elements, is still dark and traditional." 9,6/10 Metal archives (USA), 9,5/10 Don't count on it reviews (USA), 9,5/10 Lady metal (Ger), 93/100 Zware Metalen (Nld), 9/10 Hateful Metal (Ger), 9/10 Stormbringer (Aut), 9/10 Stereo Invaders (Ita), 4.5/5 Full Metal Attorney (USA), 9/10 Pest Webzine, 9/10 Medazzarock (Swi)
Múspellzheimr / Aiwigaz Undergangaz Split 10" €13
Múspellzheimr Kolbítr LP €14
Myrkr Offspring of gathered foulness MLP €13 Unholy raw black metal like old Darkthrone.
Mylingar Döda själar LP €15 Cacophonous black/death metal.
Mystruin Gånget äro ljuset LP €15 Swedish black metal on Lamech Records. Recommended to fanatics of Dodsengel, Hertroetzen, Mortuus, etc. With 16 page booklet.

Nachash Conjuring the red death eclipse LP €15
Nahtrunar Existenz LP €18 Last copy in stock!
Nartvind Mist 7" €6
Nartvind Ruinous LP €15
Naudiz Wulfasa kunja LP €15 Hateful, primitive and aggressive black metal. Fierce worship of rune and fire giants and the primordial forces of chaos. Recommended to fanatics of Spear Of Longinus, Ildjarn, Vordr.
Necrogoat Fullmoon witchery 7" €6 USA-import. Four tracks of primitive black metal from Germany that recall the ancient summonings of Demoncy, Profanatica and Beherit! Limited to 300 copies only.
Necromass Calix utero babalon LP €14
Necrophobic Pesta 7" €8 Two killer tracks, pre-recordings for the latest album. One track from the new album, one re-recorded old track. Recommended!
Nécropole Nécropole LP €15
Nécropole Solarité LP €15
Nettlecarrier To strangle the hero of heaven 7" €8,50 Norway's most obscure and disturbed black metal cult as performed by Ciekals (Djevel), Mannevond (Urgehal/Koldbrann) and Dirge Rep (Gehenna). Limited edition of 333 handnumbered, goats blood splattered copies, individually handcrafted packaging. Released 2007 by the long defunct SIG Productions - exclusive distribution worldwide by Heidens Hart. This is a high quality, hand crafted, private release. Photo - photo - photo - photo.
Nivlhel Ur vrede född 10" MLP €10 Four tracks of pure old style of Scandinavian black/viking metal! At times reminding of Angantyr with Gorgoroth-riffs but with some viking-influenced melodies. This is the demo from these Swedes now on vinyl, really recommended!
Nocternity Harps of the ancient temples DLP €20
Norden Z popiolow i krwi... LP €15 One of Polands best hidden secret. Completely unsuspected, many years after "Glory in flames", which is one of my favourite epic black metal in Bathory-style of all times. The album continues in the same style, midtempo and exceptional riffs, melodies and overall atmosphere. Highly recommended to fans of Bathory, Macabre Omen and Scald. If you are going to buy one black/pagan/viking album this year, it shall be this one.
Nordkväde Demo ett 7" €7 Traditional Nordic black metal from Sweden. Great riffs! Recommended to all fanatics of old Taake and Kampfar.
Nordreich Am Hünengrab LP €14 Re-recorded demo on vinyl LP, great work.
Norns Pazuzu LP €15
Norns / Shroud Of Satan Where demons prevail split 7" €6
Nuit Noire Deluge of starlight LP €15

Obseqvies The hours of my wake DLP €24 The Hours of my Wake, the debut album from Finland´s Obseqvies, rakes the tolls of the most angst ridden of livings and throws them back at existence by digging deep into the mires of funeral doom. Out of this world, profound and distraughtly deep, this modern masterpiece takes the listener beyond and back with an outstandingly well-yielded musicianship. Not relinquishing the lessons learnt from the masters of the genre, it does tap into the very seams of musical sanity and twists them beyond healing. The path is paved. Obseqvies will make the horror of dying real. There is no beginning and no end, just an endless circle in the process of dying. Double black vinyl with gatefold sleeve, limited to 200 copies and dedicated vinyl master for this version.
Obtained Enslavement Soulblight LP €16 White vinyl. Finally a vinyl re-release from this classic. Insanely well written stuff here, among my all-time favourite albums.
Occult 1992-1993 LP €14 Occult is the band formed by Sephiroth after Bestial Summoning called it quits. This is the "Studio Demo 1993" now released on CD. As a bonus it includes the official and suitably raw "Livetape 1992". Cover has been re-done and audio has been remastered; comes with old photos and lyrics. A true piece of Blackened Dutch Metal history!
Öde Schimmenwoud LP €13 Click here for more info about this release. Obscure black metal. CD-version sold out everywhere, last chance to get this album on vinyl.
Ofermod Sol nox LP €15 Gold-colour vinyl pressing. Not my usual style but this is a great piece of work with good eye for detail - both in audio and visuals.
Orcivus / Excessum The hidden god split 7" €7 Two Swedish bands that were never part of any hype wave. Excessum: great track with good and classic thin sound. Sounds like Moonblood. Orcivus: heavier sound with more typical Swedish sound. This is a recommended split. Quote: "The two tracks are conceptually bound together and built around ideas influenced by modern magick and Western esotericism. More specifically, they set out to explore the Higher Self, as the Son, and the Hidden God, the Sun behind the Son."
Orodruin Unburying an ancient evil MLP €14

Pagan Hellfire Unmarked fields near unknown forests 7" €7
Pantheist Seeking infinity DLP €24 "Seeking Infinity" is a 60-minute cinematic journey through funeral doom landscapes. Those already familiar with the band, will be delighted by its twists and turns, presenting elements of brutal doom death metal and extreme blast beats, and turning with equal ease to ambient sounds, neofolk and post rock elements.
Panzerfaust The demo(n) winds LP €5 Ultimate hateful & raw Satanic black metal from Germany in the old tradition. This is the final release of Panzerfaust. A compilation of demo/EP tracks and an unreleased track from the old grim past... Black vinyl limited to 300 copies. Worship the goat!
Perdition Temple Sovereign of the desolate 7" €5
Perverted Ceremony Perverted ceremony MLP €14 Foul and rotten black metal for fans of Lord Of Putrefaction, Mystifier and Dead Christ
Pest Ära LP €15 The debut from 2000 finally on vinyl for the first time. Pest is a German black metal cult that needs no introduction. From the Teutoburger forest, West Germany, comes an album full of madness and weirdness. On this album, Pest displayed how they were prime forerunners of original European black metal that does not sound like Burzum or Darkthrone. Expect chaotic compositions accompanied with hysterical and possessed vocals, executed in a way that would became that recognizable Pest sound.
Pillorian Obsidian arc LP €18
Poprava Supredator LP €10 Fast and militant black from Czechia, for fans of old In Battle!
Portal Seepia LP €16
Portal Swarth DLP €20
Portal Outre LP €16
Possession / Venefixion Passio Christi Pt. II split MLP €14 P: barbaric black/death metal as we know from the Belgian horde. V: sound like old Watain but with a slightly more death metal production, maybe more towards Necrophobic and Pentacle sound. This split is aggressive and violent!
Precambrian Proarkhe 7" €6 New band from three Hate Forest / Drudkh members. Style a bit comparable to first Abyssic Hate MCD "Eternal damnation" and some Judas Iscariot. Primitive and harsh black metal, good and underrated band!
Primigenium Faith through anguish LP €15 Completely unexpected, a new Primigenium album. Old sound and style is still there, though also with new elements. Pure traditional untrend black metal album as Primigenium should be: rotten and evil. Recommended!
Primigenium / Aversio Humanitatis split 7" €7 Primigenium: one violent track, perhaps can be described as Spanish "De mysteriis dom Sathanas" but more going on here. This is the best Primigenium track I have ever heard! A.H.: one amazing track of bombastic and piercing black metal, for fans of Nightbringer, The Ruins Of Beverast and Darkspace. Achtung: you must buy this single!!

Regnum Regnum LP €15 Vinyl edition of tape originally released through Heidens Hart.
Regnum Weil alles einst zerbrechen muss LP €15

Sabbat Sabbaticarved sacrifice LP €15
Sabbat / Metalucifer The asian tyrants / We're still metal kids split 7" €6
Sabbat Black fire 7" €8 Red vinyl.
Sabbat Black fire 7" €7 Black vinyl.
Sacrilegium Ritus transitorius LP €15 One of the oldest bands from Poland has been active again since a couple of years. Well written but still totally old style furious black metal. LP comes with two big inserts.
Sargeist Death veneration MLP €14
Sargeist Unbound LP €16
Satanic Supplicia Devotio 7" €5
Satanic Warmaster Nova ordo ater LP €15
Satanic Warmaster We are the worms... DLP €20 Black vinyl. Compilation of rare tracks.
Setherial Ekpyrosis LP €15 Latest album, really diverse and well written, my favourite after Nord and Hell eternal!
Setherial Firestorms 7" €6
Shining Within deep dark chambers gatefold LP €15
Shining Livets andhallplats gatefold LP €15 From the times the band still played suicidal black metal, inspired by Silencer and old Burzum.
Shining IX - Everyone, everything, everywhere, ends DLP €25 The latest album of dark rock. DLP comes with two bonus tracks. Exclusive rare tour edition of which I received one box directly from the band after working with them. Limited to 300 copies only, black/white marble vinyl.
Siebenbürgen Grimjaur LP €15
Sigillum Diabolicum Ordo repugnant: Les maux du monde moderne LP €16 Great piece of art, somewhere between old Peste Noire and Necropole. Comes on heavy 180gr vinyl and with insert.
Solanum Spheres of time LP €15
Soulburn Feeding on angels DLP €18 Includes full length rehearsal as bonus. Red vinyl.
Sun Of The Blind Skullreader LP €15 Side-project from Darkspace member - a bit in the same style but less monotonous. Recommended release!
Surturs Lohe Nornenwerk LP €16 Melancholic folk metal from Germany. At times reminding a bit of latest Falkenbach, but more mellow. Limited to 250 hand numbered copies. Comes with insert and signed mini-poster.
Svartgren Prazan grob LP €14
Svarti Loghin De överjordiska LP €15
Svarti Loghin Never mind the emptiness LP €15
Svarti Loghin Mörk energi LP €15
Svartsyn Aandens melankoli LP €16 Official reissue on vinyl in cooperation with the band. A haunting piece of black/doom from the 90s. Do not support the CD bootleg!
Szarlem / Drengskapur Ritual split 7" €6

Tågefolket Lad asketid begynde 7" €6 Identical reissue of the 7" from 2004. Two lengthy tracks of pure Nordic art! Grim yet melancholic Scandinavian black metal with those classical cold riffs in the style of old Isvind, Taake and of course Angantyr. No new layout, no remaster, just improved cover and insert.
Theudho / Waelcyrge split 7" €5 A classic split 7"! One epic and melodic track from TheUdho. Waelcyrge plays old school black/doom not unlike old Samael at times. Comes on either pink or brown vinyl, mention with your order.
Theudho De roep van het woud LP €15 Fifth full length album of epic and melodic pagan black metal! Easily the bands' best output to date. Monumental and epic song writing, with a focus on memorable melodies. Recommended to those into Ancient Rites, Forefather, Falkenbach and of course Bathory!
Theudho De roep van het woud LP + tshirt bundle €22,50 The new album bundled with the new t-shirt. Specify shirt size with your order.
Theudho Treachery LP €13 Re-stock from the debut album on vinyl LP.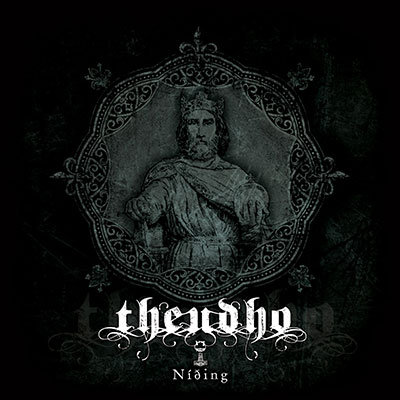 THEUDHO bundled vinyl package €25
Three vinyl records in a package deal: De roep van het woud LP + Treachery LP + Theudho/Waelcyrge split EP

Todesweihe / Leichengott split 7" €5
Triumph,Genus Jiné se dnes má mými svêty rozléhat 7" €5 A classic 7" release. This is not new material but two tracks originally released on 3 way split CD with Sator Marte and Vindorn. Most of you know what to expect: raw, straight forward, striking and elite black metal with genuine and original vocal performance of Jaroslav, known also from Kult Ofenzivy horde. Brutal sound yet very good song writing. Doublesided pro pressed fold out sleeve with philosophies in Czech and English language. 7" with black labels. Limited edition of 300 copies only. This is simply the best format for the style.
Troll / Aeon Winds split 7" €6 Troll: one re-recorded and rearranged old song. AW: young band from Slovakia, good song. This split went pretty unnoticed but is definitely recommended!
Truppensturm / Thorybos Approaching conflict split LP €15 Thorybos: definately their strongest material so far. Vein of Black Witchery but with a bit more death metal approach. Includes an Archgoat cover, absolutely devastating. Truppensturm: this band with The Ruins Of Beverast member should be known by now. More destruktive black/death metal warfare. Includes Absu cover!
Tulus Mysterion LP €16 Black vinyl. Simple and to-the-point reissue of classic two Tulus albums. This one includes "Midtvintermaane" demo as bonus. Absolute must-have!
Tulus Mysterion LP €16 White vinyl.
Tulus Pure black energy LP €16 Black vinyl. See above. This one includes 1991 demotracks as well as "Samlerens kammer" demo as bonus.
Tulus Pure black energy LP €16 White vinyl.
Tulus Evil 1999 LP €16 Finally a re-release of this small classic. Pure grim midtempo black metal, fantastic album!

Ungod / Mort split 7" €6 In all aspects a very high quality release. The cult Ungod returned with the release after a long silence, with a great old school track reminding a bit of old Sigh. Mort is awesome German black metal. Comes with a big fold out poster, big insert/booklet, heavy sleeve with 5mm spine. All art drawn specifically for this release, a lot of work went into this, recommended!
Unholy Crucifix The rite of Satan 7" €6 Three killer tracks of Beherit / Von worship. Only total death.....
Unholy Crucifix The rite of Satan 7" testpress €7 Testpressing.

Vaal Visioen van het verborgen land LP €15
Vargsang In the mist of night LP €15 Unexpected new album! Nothing changed - simply a killer album in Vargsang style, nothing else needs to be said.
Venedae / Faustian Funeral Winter split split 10" €14 This highly underrated MLP features one long track (over 10 minutes each) from each band. The Venedae track is a raw and alternate version of the song "Rumak Swietowita" and gives me a total flashback to mid 90s when I discovered bands like Venedae, Veles, Graveland and Infernum. Amazing primitive Polish folky black metal! Faustian Funeral track features Wened on drums and is in the old Polish black metal spirit. Both tracks are exclusive to this release and have demo quality sound. This one is extremely limited, so the price each is higher than usual, sorry for that. I'm only doing Euro distribution and I have very limited copies - be fast!
Verivala Kalliolle, kukkulalle LP €15 Finnish pure black metal.
Vermyapre Kommando Crache la mort LP €14 Old Black Legions material, for the first time on vinyl LP by Drakkar Productions. Primitive.
Vermyapre Kommando s/t LP €14
Vomitor Pestilent death LP €16 New album! Black vinyl. Last copy in stock.
Vond Green eyed demon LP €15 Official re-release.
Vond The dark river LP €15 Official re-release.

Walghinge Afgrondschemering 7" €7 Pure black metal from Belgium.
War44 Total war 7" €7 Seven tracks recorded in rehearsal room during 1995, 1997 and 1998.
War44 / Division Triad Way of numen split LP €15 First new War songs after more than a decade! Style is the same black/grind as the old LOE material, but the production is a lot better.
Wederganger / Laster Split LP €15
Wertham Maladolescenza 7" €6 Italian power electronics.
Wojnar Kiedy duch wojny nade mna powstanie LP €15 The most triumphant, proud and militant piece of Polish pagan folk ever recorded. Over 20 years after its original recording, this cult demo is now available on vinyl for the very first time. No DMM mastering but original analog master cut as it should be. Comes on 175 grammes heavy vinyl, 350 grammes sleeve and includes lyric sheet. This production is of course fully official and done in close cooperation with Wojnar. All layout and audio are true to the original cassette editions!
Wolcensmen Songs from the fyrgen LP €15 First press, very last copies. Black vinyl edition. A masterpiece of traditionalist and melancholic folk music.
Wolcensmen Songs from the fyrgen LP €19 First press, very last copies. Transparant white vinyl edition. A masterpiece of traditionalist and melancholic folk music.
Wodulf Zerezat 7" €6 Wodulf returns with a new 7" EP. True necromantic black metal. Limited to 500 copies on black vinyl, comes with insert.
Woodtemple Forgotten pride LP €15 Old pagan black metal horde from Poland.
Wrok Ontgravenis / Duisternis LP €16 "Ontgravenis" is probably the most extreme demo ever recorded in The Netherlands. Absolutely vile and rotten primitive black metal. Life metal gothics will not like this. With great sounding unreleased rehearsal "Duisternis" demo 1997 on side B.
Wrok De onheilsbode LP €15 Fear the return! Wrok (from HELL) has been un-buried and returns with "De onheilsbode". As if time stood still, Wrok plays disturbed and sick primitive Satanic black metal, for fanatics of Bestial Summoning, old Barathrum, old Heretic, Apator, Ildjarn. The first sign of life of the de-buried horde was the infamous Veneration Of The Dead festival in april 2017. The band played live for the first time in over 20 years for a blood-hungry and possessed audience.
Wrok De onheilsbode LP + Ontgravenis tape €20 Only available as set, limited to 75 copies. The new album (see above) plus a reissue of the infamous "Ontgravenis" demo 1996, one of the most extreme demos ever brought forth on Dutch soil.
Wulkanaz Kaosnaajd LP €15 Energy and aura of this album is perfectly insane. Guitars sound like angry hornets and the production is megalomaniac while retaining the real essence.






For more vinyl, click here.

Please note: all vinyl releases come with a free plastic sleeve, you don't have to pay extra for this!